As we all know, the relatively high cost is a key obstacle of the popularity of light emitting diode (LED) streetlight technology. A LED streetlight cost at least $200, almost several times as the traditional streetlight such as high-pressure sodium vacuum light, halogen light and others. As the development of lighting technology, the dropping LED streetlights' price owns an advantage over its counterparts, and stimulates a great application in government project.
It is reported that in 2013, Taiwan will replace almost 250 thousand traditional streetlight of light emitting diodes streetlight. Coincidentally, over 100 cities have implemented LED streetlight as the major city lighting resource. Northeast Group said that not only are lighting emitting light reduce the energy consumption but also provide a safe and convenient environment for city residents. In the popularity of LED technology, the decreasing LED streetlights' prices play an important role and will further accelerate its adoption.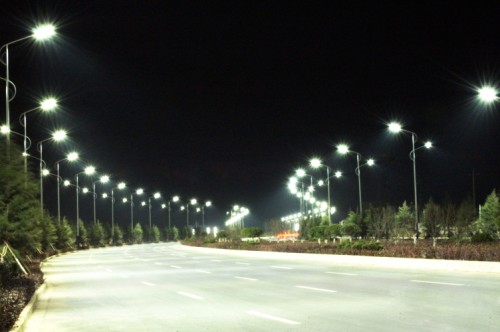 The unique characteristic of LED lighting technology makes it self a new rising star in the global market. It is estimated that the whole Los Angeles would save around $10 million electrical expense annually by adopting LED streetlight technology. With more attention put on the sustainable development in global, its low energy consumption feature encourages more and more government to adopt in the lighting projects. If LED streetlight replace of the conventional light in the whole world, carbon dioxide emission will be reduced by almost 40 million metric tons, which has a significant impact on our environment.
Although LED streetlights' price is higher than the conventional light, its unique features give it an upper hand over other lights. Richard, manage of AGICO (a renowned LED light exporter in China) said that LED streetlight will be greatly applied in the city lighting project in 2013 in China.