We are the professional manufacturer of LED panel lights, and we offer wholesale price to our customers with excellent quality products.
Features of our 36w LED panel light:
1. Super bright 3014 SMD LED chip guarantees less light degradation.
2. High quality power supply: CE approved, good heat dissipation, efficiency (85%).
3. Lifespan 50, 000 hours (5 years), which is 20 times longer than conventional bulbs.
4. There is no harmful substance which is bad for environment, such as, mercury, lead, etc.
5. It can work instantly without flash, stridor and glare.
6. It is without infrared, ultraviolet and heating effect.
7. The constant-current drive can still guarantee the normal operation of panel lamp during unstable voltage.
8. Its appearance is concise and vogue, pretty, elegant and never unfading.
9. Fast and convenient installation: it can be hang on the wall to replace the ceiling or grille lights with the same specification, or it can be hang on the roof through the chain.
10. Side lighting is homogeneous, soft and comfortable. It can alleviate eyes' fatigue with wider lighting angle.
Application of Our 36w LED Panel Light:
1. Commercial and exhibition locations
2. Hotel, conference and meeting room
3. Factory, office, house
4. Airport, metro station
5. School, hospital and other public places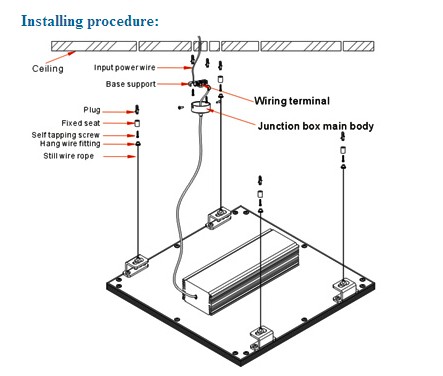 Step1: Punch 5 holes in the ceiling
Step2: Punch the "Plug"into hole
Step3: Lock-in the base to Plug hole with "self tapping screw"
Step4: Screw the fast connect into the base
Step5: Fix the base on the ceiling surface
Step6: Draw the "Input power wire "from wire entry then connect with terminal
Step7: Fix the base main part and base plate with screws
Step8: Finish